Key benefits
App4Sales has various features that simplifies the sales process and saves time. App4Sales uses advanced order processing. Enter your order on your device, send it to your administration and send an order confirmation to your customer.
App4Sales has a visually attractive catalog and lookbook where your product information is accessible.
App4Sales shows a comprehensive customer database which can be accessed in the online or offline mode.
How it works with QuickBooks
Your Quickbooks software integrates with the App4Sales Content Management System. In this CMS, you can manage your users, your lookbook images, various settings and have an overview of several statistics. The CMS retrieves product and customer information from your administration. This data will then be synchronized to the sales app, giving you access to all the up-to-date information you need on your tablet. On your tablet you can edit or add new customers, which will automatically be updated in Quickbooks. Moreover, you can send new orders and invoices from App4Sales to Quickbooks.
Details
App4Sales is a tool for your sales team. With App4Sales you can register orders for your customers through the digital catalog. AApp4Sales connects to your back office, which makes it possible to register new customers, add products from the catalog to an order, and have your customers sign the order on the iPad or Android device. With the B2B mobile sales app, the logistical handling of your orders is automated. Manually entering orders in the back office is a thing of the past for your representatives. Easy and time saving.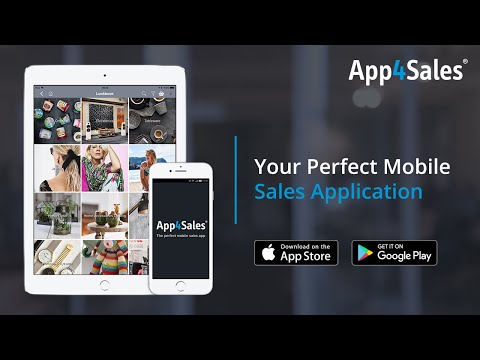 $60 per month per administration and $40 per month per user
| PLAN | PRICE | USERS | DETAILS |
| --- | --- | --- | --- |
| Base Price + 1 user | 100 | 1 | With the base price + one user, you have full access to the app for one user and our management system. |
| Base Price + 5 users | 260 | 5 | With the base price + five users, you have full access to the app for five users and our management system. |
| Base Price + 10 users | 460 | 10 | With the base price + ten users, you have full access to the app for ten users and our management system. |
Our support team will help you install and configure App4Sales to ensure your sales team is ready to go!
Contacts
App4sales@optimizers.nl (003) 133-2541188

Online support:

https://www.app4sales.net/contact/
FAQ
How do I register an order with App4sales?

Simply pick a customer from your customer list and start adding products from your digital catalog. Add comments or references when necessary and let your customer sign the order on your device. Press the "send order" button or safe the order to send it later.
---