Key benefits
Dynamic Mapping: The application provides a pre-built field to field map along with flexibility for more complex and dynamic mapping capability.
Highly Customizable: Our adapter supports, custom fields, custom entities, and the creation of custom mapping for unique or complex business processes.
Turn Key Solution: Our adapter comes built with pre-loaded templates for your standard connections. This gets you up and running in about an hour so you can spend time focusing on what matters.
How it works with QuickBooks
DBSync leverages Dynamic's OData and QuickBooks' Web Connector and Rest API to sync data between these platforms.
Details
DBSync's Microsoft Dynamics 365/CRM Online Adapter bi-directionally synchronizes data with your QuickBooks ensuring all platforms are uniformly integrated to one another. The Adapter comes bundled with Process Builder which allows detailed customization to fit your business goals.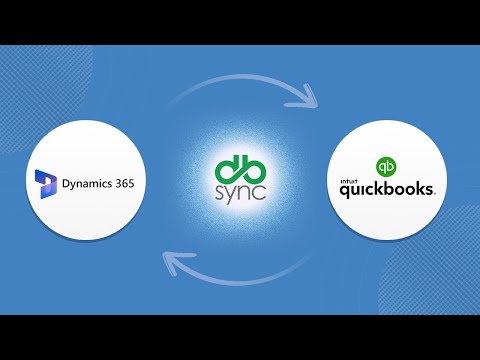 DBSync's templates are available via an annual license. This allows us to stay up to date with the latest versions of the software we are connecting.
| PLAN | PRICE | USERS | DETAILS |
| --- | --- | --- | --- |
| Annual License | 2400 | Unlimited | The annual license for our Dynamics x QuickBooks connector includes templates for connecting customers/accounts, products/inventory, invoices, and the option to map many more custom workflows! |
| Free 2 Week Trial | 0 | Unlimited | Test out the Dynamics x QuickBooks connector's standard template. This includes accounts, customer, and invoice integration. |
Standard: Email Support. Enterprise: Email and Phone. Check website for more details.
Contacts
support@mydbsync.com 1-877-739-2818

Online support:

http://help.mydbsync.com/docs/display/dbsync/Home
FAQ
Can I import my existing QuickBooks data into Microsoft CRM?

Yes, we can migrate a portion or all of your QuickBooks data to Microsoft CRM.

Is DBSync bi-directional?

Yes, Enterprise version has a full support for Custom Object and Fields.

Can I generate invoices in QuickBooks from inside Microsoft CRM?

Yes, you can generate invoices, sales orders, estimates and quotes. In Enterprise version you can integrate with Microsoft CRM Custom Objects or QuickBooks Accounting tables.

What versions of QuickBooks do you support?

QuickBooks Online; QuickBooks Desktop 2008 and later (US, UK, Canada)
---