Key benefits
No more manual data entry. Bills, Receipts and Invoices are automatically imported into QuickBooks in seconds.
Make your bill/expense approval process paperless. Approval emails will be automatically sent to suitable approvers.
Manage inventory & jobs with invoice line details. Line items details are extracted and automatically coded based on your invoice history.
How it works with QuickBooks
Send your invoices or receipts to EzzyBills - they will be in your QuickBooks Online account in seconds. Super Fast and Accurate. 100% Automatic. Free Trial .
Details
EzzyBills is an Add-on to extract invoice data from all your bills, receipts and sale invoices, and export to QuickBooks in seconds. Artificial intelligence is used to extract all invoice data including line items and automatically set your account codes. EzzyBills support both PDF and scanned images, or photos of receipts using a smart phone.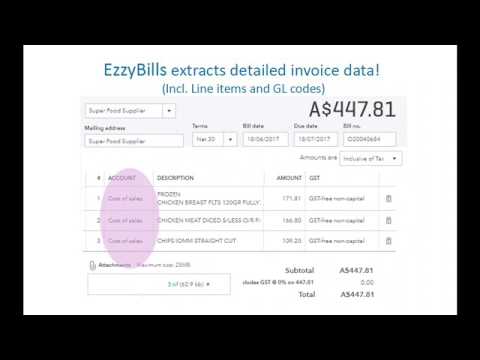 Free trial for one month. Prepaid plans, valid for a year. Recharge any time. Monthly plans are available by request.
| PLAN | PRICE | USERS | DETAILS |
| --- | --- | --- | --- |
| Light | US$75 per year | Unlimited | For 700 Invoices. 365 Days Expiry |
| Standard | US$185 per year | Unlimited | For 2000 invoices. 365 Days Expiry |
| Enterprise E5 | US$370 per year | Unlimited | For 4000 Invoices. 365 Days Expiry |
Email & phone support and online documentation & video
Contacts
support@ezzydoc.com 510 470 7097

Online support:

https://www.ezzybills.com/contact-us/
FAQ
How long does it take for EzzyBills to process an invoice?

In seconds, not hours or days.

What types of invoices does EzzyBills support?

Supplier's invoice (bills), sale invoices, credit notes. PDF or scanned.

Can we email invoices to EzzyBills? Can we use phone app to scan receipts?

Yes for both questions. Supper convenient.

What QuickBooks products does EzzyBills support?

QuickBooks Online
---