Key benefits
Improved cash flow
Automatically collect payment for any QuickBooks invoice on the due date, whether recurring or ad hoc.
Reduce admin
GoCardless ensures you get your invoices paid automatically so you can spend less time chasing up overdue bills and more time on being productive. Payments are automatically reconciled in QuickBooks too, meaning less admin.
Happier customers
Make it hassle-free to pay you. Customers only have to set up a GoCardless mandate once to pre-authorise all future payments to you. They are notified prior to each payment and fully protected by the Direct Debit Guarantee.
How it works with QuickBooks
GoCardless integrates directly into QuickBooks Online. From setting up mandates to collecting and reconciling Direct Debit payments for your invoices, everything is managed from one place within QuickBooks Online.
Details
Get your invoices paid automatically as soon as they are due with GoCardless, the online Direct Debit solution. Take control of your cash flow, automatically reconcile payments within QuickBooks Online and stop chasing unpaid bills.

GoCardless is an Authorised Payment Institution by the Financial Conduct Authority (ref no 597190). They are a Bacs Approved bureau and payments are protected by the Direct Debit Guarantee.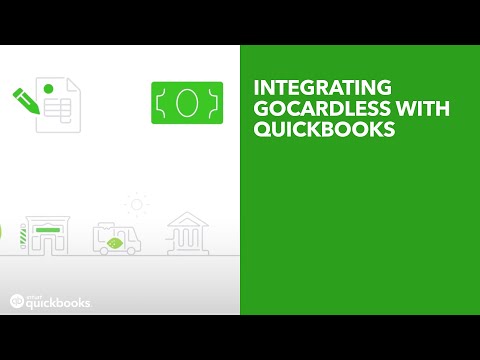 Fees of just 1% per transaction, (capped at £2, min. 20p), no setup costs, no hidden fees and free integration to QuickBooks
| PLAN | PRICE | USERS | DETAILS |
| --- | --- | --- | --- |
| Standard | 1% transaction fee (minimum 20p, maximum capped at £2). | Unlimited | Start taking payments today. No contract, only pay for successful transactions. |
| Plus | 1% per transaction (min 20p, capped at £2 +£50 per month fee | Unlimited | All the features of standard, plus your company name guaranteed on customers' bank statements |
Call our UK support team free between 8am - 8pm, Mon - Fri
Contacts
0808 234 5337

Online support:

https://help.quickbooks.intuit.com/en_GB/contact
FAQ
What is Direct Debit?

Direct Debit is an automated payment method that allows you to pull payment directly from your customers' bank account. The system is built on two key features. Firstly, Direct Debit is pull-based, meaning that once a customer sets up a Direct Debit mandate, you can initiate payment without them needing to action anything further. Secondly, Direct Debit payments are bank-to-bank, meaning there are no card networks involved in the Direct Debit scheme, which keeps costs low.

What is GoCardless and how much does it cost?

GoCardless is a leading online Direct Debit specialist that manages the entire collection process on your behalf. You will need to setup a GoCardless account before taking Direct Debit, which can be done directly through the QuickBooks Online app store. GoCardless charges a 1% transaction fee (minimum 20p, maximum capped at £2). There is no additional fee for integrating GoCardless with QuickBooks Online, no set up costs or hidden fees.

How flexible is Direct Debit?

Direct Debit is an incredibly flexible payment method. It allows you to collect fixed or variable amounts and take one-off or recurring payments. With GoCardless you are not restricted to collecting payment on a fixed time or date. As long as you have an invoice, GoCardless will collect payment whenever it is due.

How do I use Direct Debit with QuickBooks Online?

Our integration allows you to collect payments via Direct Debit. Once you have set up Direct Debit mandates with your customers, all you need to do is send the invoice from within QuickBooks Online and the rest is handled automatically. Once the payment has been made, the invoice will be marked as paid and the payment will be automatically deposited into the account of your choosing.
---