Key benefits
HoursLogger was built for consultants, by consultants. It is designed specifically for people that want to track billable hours without the need for extra buttons or fluff. We make time tracking SIMPLE.
Generate invoices with a single line item or a line item per day. Sync your invoices to QuickBooks Online or save them as a PDF. It's easy to adjust invoice line items, hours, and billable rates.
100% Mobile Design. HoursLogger looks great on any laptop, desktop, phone, or tablet. The best part is, you don't have to download or install any extra apps. All you have to do is go to HoursLogger.com.
How it works with QuickBooks
HoursLogger automatically syncs your customers and service items when you first log in. There is no manual set up to integrate with QuickBooks. You just start tracking right away! There are 2 main ways customers use HoursLogger with QuickBooks: You can track time in HoursLogger, then sync your time with QuickBooks Online to create invoices. Or you can create invoices in HoursLogger, then sync them to QuickBooks Online to send.
Details
We are the SIMPLEST way for consultants, freelancers, and solopreneurs to log their hours and get paid. Track your time and generate detailed invoices in one click! Get analytics on how you're spending your time and how much your billing your customers. You'll LOVE our timesheet view! You can easily view recorded hours within any date range. Times can be filtered by date, user, and customer. You can edit your times, sync times with QuickBooks, and generate invoices all with minimal effort. It's also great for small teams. Users on your team can share customers and bill as one unit.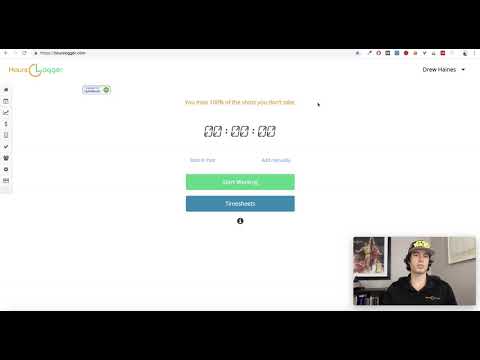 Simple Pricing and a Free 30 Day Trial. No credit card required.
| PLAN | PRICE | USERS | DETAILS |
| --- | --- | --- | --- |
| HoursLogger Plus | $9/user/month | 1 | Full app features including Time Tracking, Invoicing, Analytics, and QuickBooks sync. |
"I don't know any other app that has such personalized service. I appreciate you so much!" At HoursLogger, we believe excellent customer service should be earned not promised. If you need help, send your questions to us via email ( support@hourslogger.com ) or on twitter ( @hourslogger ) and we'll get back to you as fast as humanly possible (usually with 24 hours).
Contacts
support@hourslogger.com (800) 590-3892

Online support:

https://hourslogger.com/contact
FAQ
What if I need help? Do I have to pay for Support?

At HoursLogger, we believe excellent customer service should be earned not promised. If you need help, shoot us an email at support@hourslogger.com or send your question to us on twitter @hourslogger and we'll get back to you as fast as humanly possible (usually with 24 hours). Phone support is also available Mon-Thurs from 9am-5pm PST.

Is my data secure with HoursLogger? Is my data backed up?

HoursLogger is a web-based SaaS solution, so data stays secure even in the event of computer malfunctions or unexpected errors. A 128 Bit SSL security system is used to protect against unwanted outside sources having access to your data. Daily backups are performed to ensure user data can be recovered with relative ease.

Who is HoursLogger built for and how does it work?

HoursLogger was created for Professional Service Consultants looking for a simple way to track their hours and subsequently bill clients. Users have full control over time input via manually adding time cards or using a simple timer. Once billable time is recorded, users can generate invoices in a matter of seconds!

What data gets shared between HoursLogger and QuickBooks?

HoursLogger aims to solve a specific business problem for Professional Services Consultants and therefore only shares data related to generating invoices. We automatically sync your QuickBooks customers and service items. Time entries and invoices can be sync-ed with the click of a button.
---