Key benefits
Allows your external systems that create IIF files to work with your QuickBooks Online.
Makes it easier to convert from QuickBooks Desktop to QuickBooks Online
How it works with QuickBooks
Allows importing of IIF files directly into QuickBooks Online. Saves time and money allowing quick and accurate importing of transactions.
Details
Import your IIF files into QuickBooks Online very easily and quickly.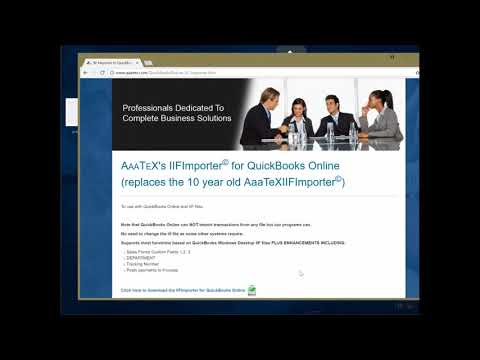 One price for unlimited users
PLAN
PRICE
USERS
DETAILS
Lite (General Journals only)
$120us/year - that's just $10us/month.
99
Lite (General Journals) Edition only does General Journal Entries and related lists. Upgradeable.
Plain
$170us per year that's less than $15 us/month
Unlimited
General Journals, Invoices.Bills and related List Entries Only. Upgradeable.
Standard
$240us per year. That's just $20us/month
Unlimited
Basic import settings for Unlimited users works similar to QuickBooks WIndows Desktop IIF Import. Upgradeable.
Gold
$399us per year less than $40us/month
Unlimited
Standard Edition features plus settings and overrides for Unlimited users. Upgradeable.
Diamond
$999us the first year for multiple QuickBooks Online companies (499). Ask about more.
After the first year there is a required annual renewal fee of $550us.
Unlimited
Deep Discounts for Bookkeeping/accounting firms. Gold Edition features plus multiple companies
Free prompt defects correction if it occurs
Contacts
386-322-3850

Online support:

http://aaatex.com/support.htm
FAQ
Does it import payments and post the payments to the invoices?

Yes, it can import invoices and payments. If the payment IIF record has the invoice(s) being paid it will post them accordingly.

What does it require?

It requires to be run on a Windows machine and have access to the Internet. (New) MSIE 11 or later.

Does it require any mapping?

No, the functions, accounts, names, etc. are all determined from the IIF format itself.
---