Key benefits
52% of unpaid invoices are recovered when sent with Mailform. Your invoices are getting stuck in junk mail, and Mailform helps you cut through the clutter.
Easily send unpaid invoices. Here's how: - automatic imports of Quickbooks invoices - instant address book loading from Quickbooks - automatic matching of invoices to customers - print + mail via USPS First Class & Certified Mail (w/ tracking #s)
Earn an average of $285 for every dollar you spend printing and mailing unpaid invoices with Mailform. These results are from real small businesses, using Mailform's Quickbooks integration.
How it works with QuickBooks
Directly import your unpaid invoices from Quickbooks, and send those unpaid invoices via snail mail (USPS First Class Mail or Certified Mail), right from your computer. Send via USPS First Class or Certified Mail. Supports return envelopes, remit slips & color printing. Perfect for Law Firms, HOAs and more. Used by firms like ItemMaster International and Oaktree Law
Details
This app makes it easy to - import unpaid invoice files from Quickbooks in a few quick clicks - import customer addresses - print and mail any files to any customers - send mail via USPS First Class Mail or USPS Overnight Mail Millions in invoices have been sent using Mailform's print + mail service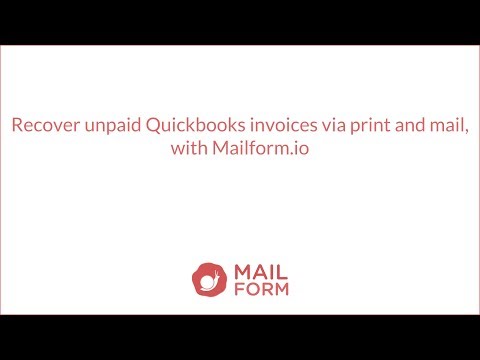 Simple, per page pricing of $2.99 per page (per envelope) and $0.49 for each additional page. $0.25 extra per page for color. $8.99 extra for certified mail (per envelope).
| PLAN | PRICE | USERS | DETAILS |
| --- | --- | --- | --- |
| Standard | $2.99 per page (per envelope) and $0.49 for each additional page. $0.25 extra per page for color. $8.99 extra for certified mail (per envelope). | 1 | Standard pricing. |
| Pro | $0.99 for the 1st page (per envelope) and $0.15 per additional page. $0.20 extra per page of color | 47 | Bulk Mail Pricing - applies for a minimum of 10 orders per month |
Support is available Monday through Friday. You can email our support team from our website.
Contacts
Team@mailform.io +1 805-395-9596

Online support:

https://www.mailform.io/support.html
FAQ
How does Mailform work?

Mailform connects with your QuickBooks Online account to get all the invoices with an outstanding balance and lists them in a simple format so you can clearly choose the invoices to mail. Using the billing address from the invoice there is no additional data entry to be done: just select the invoices and then confirm your selections. We use the PDF versions of the unpai invoices so you can be sure that the invoices you prepare will be the invoices your customer receives, exactly as you intended.

What if I am sending tons of unpaid invoices? Is there a discount?

We offer automatic discounts as your volume grows! Visit mailform.io/pricing.html for a calculator.

Can I send my unpaid invoices via USPS Certified Mail?

YES! We support Certified Mail. You will get a tracking link, and we'll notify you when it arrives?

Who typically uses Mailform?

Mailform is perfect for law firms, homeowners associations, lawn care companies, HVAC, or any business that sends monthly paper invoices via snail mail, or has unpaid invoices it needs to send. If you're sending lots of unpaid invoice volume, you'll automatically get bulk discounts.
---