Key benefits
Deliver each project predictably and profitably with built-in time tracking and budget tracking on each project. Time sheets sync with QuickBooks for easy billing.
Accelerate cash collection with integrated QuickBooks invoicing. Either sync time from Mavenlink to QuickBooks and bill from QuickBooks, or invoice the time directly from Mavenlink and sync the invoice to QuickBooks.
Understand your team's availability and utilization with Mavenlink's built-in resource management capabilities. Ensure you know who is staffed on what project and see budget vs. actual in real-time.
How it works with QuickBooks
Connect Quickbooks with Mavenlink to seamlessly synchronize your projects and accounting. Manage project tasks, budgets, expenses, and invoices in a single tool. You get clean, accurate financials every time, in real time! If you're a Mavenlink customer and live in the U.S., UK, India, Australia or Canada you can connect QuickBooks to Mavenlink.
Details
Start by creating Fixed Fee and Time & Materials projects from customer-accepted QuickBooks estimates. Then, link Mavenlink project deliverables to QuickBooks billing items so that your employee and vendor tracked time from your Mavenlink projects stay in sync with QuickBooks. Additionally, sync any expenses incurred on the Mavenlink project with QuickBooks, using the expense categories from your ledger. We have also recently updated Invoice synchronization with QuickBooks - invoice from Mavenlink or QuickBooks and keep your billing in sync.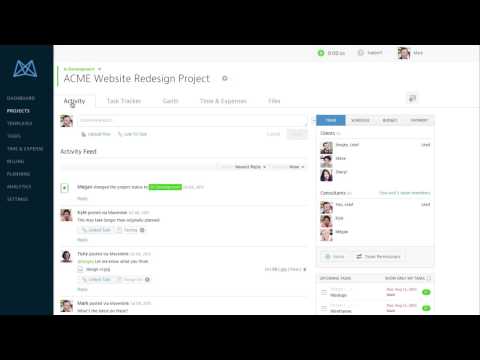 Mavenlink offers plans from basic task collaboration to complete professional services automation (PSA). Start with project management and time tracking, grow into resource planning, and graduate to margin and utilization forecasting.
| PLAN | PRICE | USERS | DETAILS |
| --- | --- | --- | --- |
| Mavenlink Teams | $19/month for five users, $4 for each additional user with annual contract. ($29 and $6 if paid monthly.) | 5 | Mavenlink Teams is a collaborative project management solution that streamlines your team's project delivery. Efficiently plan projects, assign tasks, share files, and post messages in a convenient, cloud-based workspace. (Upgrade for QB integration) |
| Mavenlink Professional | $39/month per user (with annual contract) | 1 | Mavenlink Professional provides advanced project management and project accounting capabilities in one cohesive environment. Better plan and manage projects, time & expense tracking, invoicing, and more. |
| Mavenlink Premier | Call for Pricing | 1 | Mavenlink Premier is complete Professional Services Automation (PSA) for managing project delivery predictably and profitably. Know the availability of every resource, the status of every task, and profitability of every project — all in real-time. |
| Mavenlink Enterprise | Call for Pricing | 1 | Mavenlink Enterprise is advanced services automation and business intelligence (BI) software. Break down the silos to see trends and forecast revenue with greater precision — and answer the questions high-performing businesses need to ask. |
support@mavenlink.com
Contacts
(949) 336-7610

Online support:

https://mavenlink.zendesk.com
FAQ
Can I try Mavenlink for free?

Absolutely! Any Mavenlink plan can be tried free for ten days. You can get a free trial by requesting a demo at mavenlink.com. We've found that getting a personalized tour of the product helps you make the most of your trial and is the quickest way to decide whether Mavenlink is right for your organization.

What other applications can I integrate with Mavenlink?

Mavenlink integrates with a variety of applications you may already use. This includes Salesforce, Google Drive, Intacct, JIRA, and NetSuite. We also offer API documentation for your own custom integration build. For full integration information, please visit mavenlink.com/integrations.

Who uses Mavenlink?

Mavenlink serves companies of all sizes, including teams and enterprise solutions. Professional services teams at publicly traded companies, elite marketing agencies, boutique consulting firms, and everyone in between. With clients in more than 100 countries, Mavenlink has lots of success stories to share. Find them in our 200+ five-star reviews on Google, or visit http://mavenlink.com/trusted-by for more in-depth case studies.

What information syncs between Quickbooks and Mavenlink?

The Mavenlink+QuickBooks integration syncs your key project financials to streamline job costing and project accounting: Create estimates from Quickbooks that become Mavenlink projects. Link project tasks and deliverables to QuickBooks billing items. Sync time tracked on your Mavenlink projects into QuickBooks. Designate Mavenlink users as employees or vendors in QuickBooks. Send Mavenlink expenses to QuickBooks using the expense categories from your ledger.
---