Key benefits
Enjoy unlimited contacts for each of your donors and prospective donors.

Method allows you to save the names, phone numbers, email addresses, donations, activities, tasks and follow-ups of all your contacts - all in one place.
The best QuickBooks integration

All your donors, volunteers, vendors, employees, sales receipts, invoices, items, and other QuickBooks lists are accessible in Method. You are able to view, add and edit virtually everything.
Beyond CRM: Customize your system to match the unique way you get your fundraising done

Method:Donor is 100% customizable. Method's no-code platform makes it easy to develop a solution or app perfect for your business. No code needed!
How it works with QuickBooks
Method's patented sync has everything you need to bring more donations and serve donors all in one place.

Method's sync provides more than just a view of your QuickBooks data — your team is able to edit and add QuickBooks data including Contacts, Sales Transactions, Payments, Vendor Transactions, List Items, and more all from within Method.
Details
Know Each Donor — When you have donor history at your fingertips, it's easier to cultivate great relationships with each member, and get better results from your fundraising.
30-day Free Trial • Unlimited Users & Contacts • Best-in-class support
Your donor information is kept in a single centralized list, making contact information easily accessible to all team members, so follow-ups happen faster, and customers remain loyal.

Click 'Get App Now' and Method will automatically connect with your QuickBooks account and start syncing in seconds. No manual importing or additional integration costs.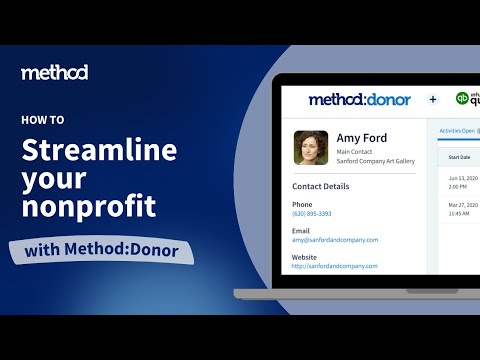 Sign up for a 30-day free trial
No credit card required to sign up. All Method Subscriptions include our Industry-leading QuickBooks sync and unlimited customizations.
| PLAN | PRICE | USERS | DETAILS |
| --- | --- | --- | --- |
| Method:Donor | $25/user/month | Unlimited | Fundraising and Donor Management for QuickBooks |
As a trial user or subscriber, you'll love the free phone, email, and chat support you'll receive from our QuickBooks Online certified team. When our team isn't hosting weekly interactive webinars, they're continually adding resources to our online Help Center, including entertaining video tutorials and 'how-to' documentation.
We'll make sure you feel extra supported during your free trial with a live, one-to-one demo and a free 1-hour session with one of our customization specialists.
Contacts
support@method.me 1-888-925-6238

Online support:

https://help.method.me/donor-management
FAQ
I see this is a free, 30-day trial. So....what's the PRICE afterwards?

After the trial period, the regular price of $25/user/month will commence.

Customization sets Method:Donor apart from other Donor Management apps – but do I NEED to customize?

Method:Donor comes fully featured "out of the box." So you don't *need* to customize anything. However, we know one size does not fit all, especially for nonprofits. That's why Method:Donor is fully customizable with drag-and-drop tools… 100% code-free. You can have a system that's just right for the way you get your work done.

Can I send emails and issue tax receipts with Method:Donor?

Yes, but currently only in the US. Method is built with donor management and accounting best practices. You can send personalized emails to each of your donors quickly with a customizable tax receipt. We want to make it easy (and efficient) for you to nurture your donor relationships for the long term.

How often is Method:Donor updated?

We frequently update Method:Donor with new features based on your feedback. We have an exciting roadmap ahead of us to help you better manage your donors, online donations, members, events and more. Our goal is to build a simple and easy to use product for you without "feature bloat." Let us know at nonprofit@method.me what more you'd like to see in Method:Donor!
---