Key benefits
Variety of options for employees to punch in/out with restriction settings. Punches are recorded in real-time through the cloud where they are reflected on time cards. Employers can check from anywhere in the world to see who's punched in and out.
Seamless timecard integration with QuickBooks for convenience. Paid time off tracking including holiday, sick, vacation, and personal days for accurate time card reporting.
Reduce payroll expenses and avoid overpaying or underpaying employees. Save time and speed up the payroll process with a simple click of a button. Accountants love the ease of receiving timecards through OnTheClock.
How it works with QuickBooks
With the OnTheClock time clock, you can push employee time cards to QuickBooks Online for payroll and billing with the click of one button. No more manual time card calculators!
Details
Our online time clock is easy for employers and easy for employees. Employees punch in/out, you get hours for payroll, its that simple. Advanced features such as PTO, Scheduling, Automation & Employee GPS Location Control are available also. The Employee Punch Clock can be implemented quickly. Employee time tracking is made easy with OnTheClock. Simply add employees to your time clock, invites are automatically sent and employees can then clock in and clock out using a computer, phone or tablet. If you are concerned about employees punching in from home, we have you covered with GPS tracking and Geo-Fencing. Our customers LOVE Us!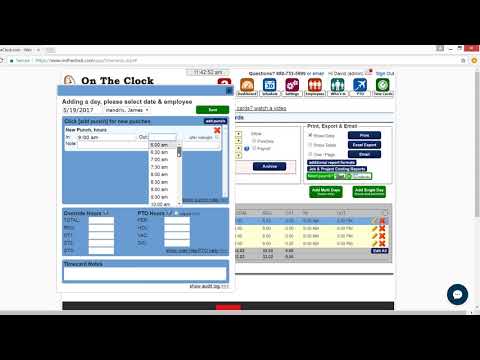 30-day Free trial, Free for 2 employees or less, monthly pricing starts at $2.50 per employee for 3 or more. No contract and cancel anytime.
| PLAN | PRICE | USERS | DETAILS |
| --- | --- | --- | --- |
| 1 - 2 Employees | FREE (really!) | 2 | 1 - 2 employees |
| 3 - 10 Employees | $2.50 per employee per month | 10 | 3 - 10 Employees |
| 11 - 25 Employees | $2.45 per employee per month | 25 | 11 - 25 Employees |
| 26 - 50 Employees | $2.40 per employee per month | 50 | 26 - 50 Employees |
| 51 - 100+ Employees | $2.35 - $2.20 per employee per month | Unlimited | 51 - 100+ Employees |
Standard support: 8:30 AM to 5:00 PM Eastern Monday-Friday, Emergency Support: 24/7 365
Contacts
support@ontheclock.com (888) 753-5999

Online support:

https://www.ontheclock.com/contactUs.aspx?referrer=intuitus
FAQ
Do you backup my data?

YES, this is a top rated priority for us, we backup all data on a nightly basis.

Do you offer support?

YES, we offer FREE phone and email support. Also, all upgrades are free for as long as you use the service.

Do you offer a free trial?

YES, we offer a 30-day free trial - no credit card or obligations, click the 'Sign Up Now' to try our system.

Do you have an App?

Yes! Employees and employers are able to access their accounts from our FREE mobile app. Download it today in The App Store or Google Play Store.
---