Key benefits
One-Click Reconciliations

Reduce the time you spend to manage and reconcile payments. With just one click, you can reconcile all your transactions and maintain a full audit trail of cash in and cash out.
Remote Approvals

Plooto works well with teams of all sizes. Set permissions for who can create, edit, authorize and reject payments. You can require approvals from more than one user before payments are processed.
Pay and Collect Payments From Anyone, Anywhere

With Plooto you can send and receive money, and all you need is your contact's email address. There are no size or volume limits.
How it works with QuickBooks
The simplest way to streamline all your payables and receivables from QuickBooks Online and Desktop in one integrated platform. With Plooto, sending and receiving payments has never been easier. .
Details
When bills are created or updated in QuickBooks, Plooto's integration enables you to make payments quickly and easily. Simply log into Plooto and process multiple transactions in one click. Once submitted, funds are deposited directly into your payees' bank accounts and you will receive real time notifications every step of the way.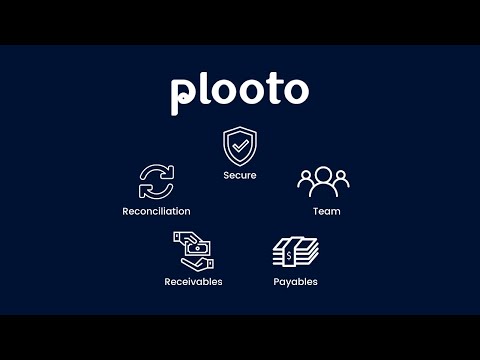 Simple pricing, no nickel and diming.
| PLAN | PRICE | USERS | DETAILS |
| --- | --- | --- | --- |
| First 25 Payments | $1 per ACH transaction | 999 | No transaction value limits. Unlimited users. |
| Next 25 Payments | $0.75 per ACH transaction | 999 | No transaction value limits. Unlimited users. |
| After 50 Payments | $0.50 per ACH transaction | 999 | No transaction value limits. Unlimited users. Unlimited transactions. Contact us directly for enterprise level pricing. |
| Payments to Canada | $9.99 per transaction | 999 | No transaction value limits. Unlimited users. Unlimited transactions. |
Questions? We're Here to Help. We believe in treating you the same way we'd like to be treated. support@plooto.co
Contacts
1 (844) 4PLOOTO

Online support:

http://support.plooto.co/customer/en/portal/topics/976111-quickbooks-online
FAQ
Can Plooto make bulk payments?

Yes! Plooto allows you to pick which bills to pay and can be used to make partial payments where needed.

How do I reconcile my bill payments?

Plooto automatically reconciles all your payments with QuickBooks, no need to do anything extra! Simply make the payments via Plooto, and let us do the rest.

Does Plooto work with QuickBooks Desktop?

Yes! Our platform works with both QuickBooks Online and QuickBooks Desktop
---